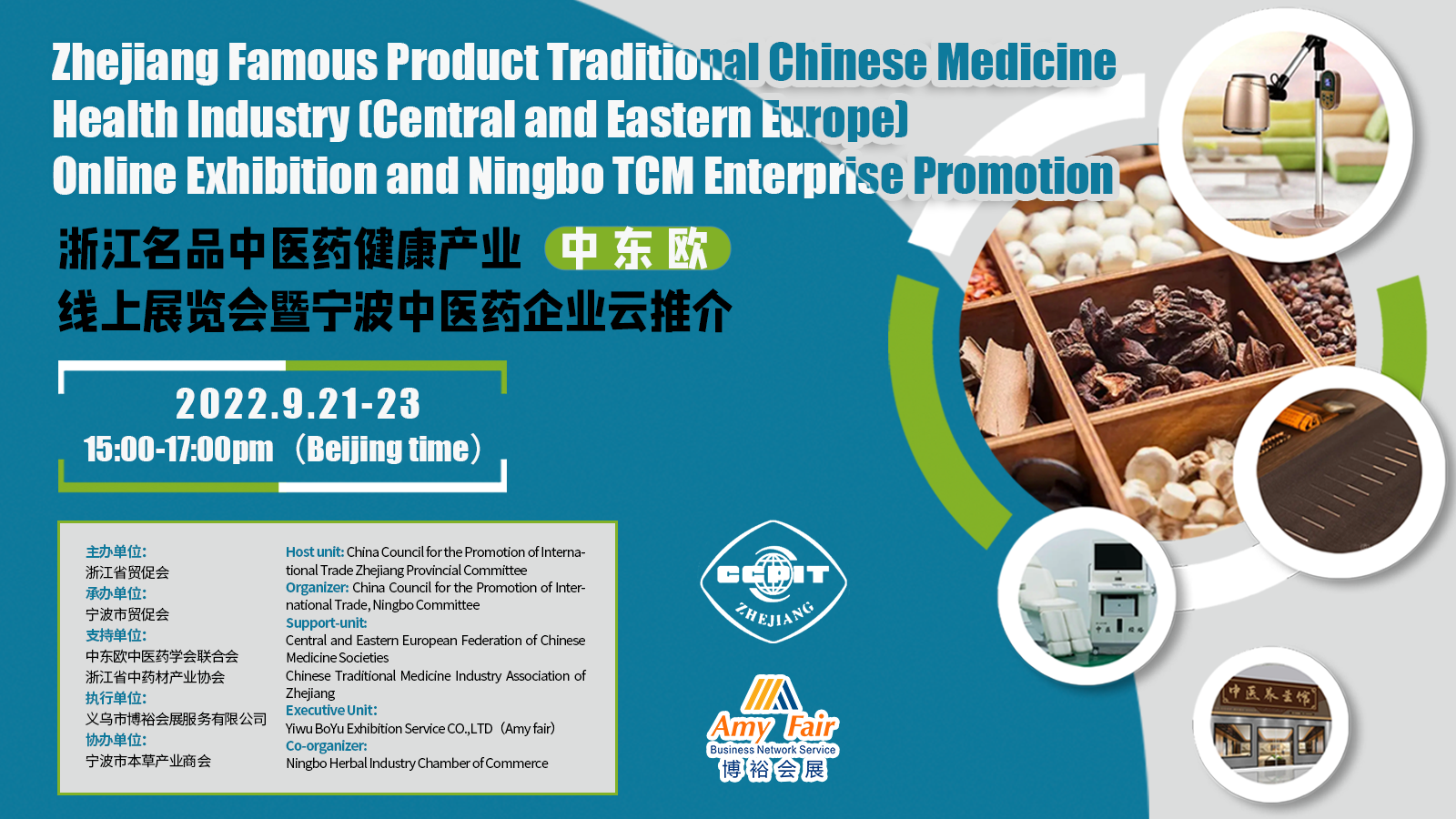 On September 21, Zhejiang Famous Product Traditional Chinese Medicine Health Industry (Central and Eastern Europe) Online Exhibition and Ningbo Traditional Chinese Medicine Enterprise Promotion was grandly opened, which is hosted by Zhejiang Council for the Promotion of International Trade, organized by Ningbo Council for the Promotion of International Trade, and executed by Yiwu Boyu Exhibition Service Co., LTD. More than 40 Ningbo medical planting and processing enterprises and 60 traditional Chinese medicine health enterprises from Central and Eastern European countries participated online.
Liu Binyuan, deputy director of Trade Promotion Department from Zhejiang Council for the Promotion of International Trade and He Rongrong, Consultant at level four, Ye Huayu, Vice President from Ningbo Council for the Promotion of International Trade, Yu Funian, Chairman of Central and Eastern European Federation of Traditional Chinese Medicine, Ying Zhifeng, Ningbo Liaison Office in Hungary, and other leaders and guests attended the opening ceremony. The activity received positive response and strong support from Ningbo Herbal Industry Chamber of Commerce, Central and Eastern European Chinese Medical Association Federation, Hungary, Montenegro and other relevant Chinese and foreign associations and groups.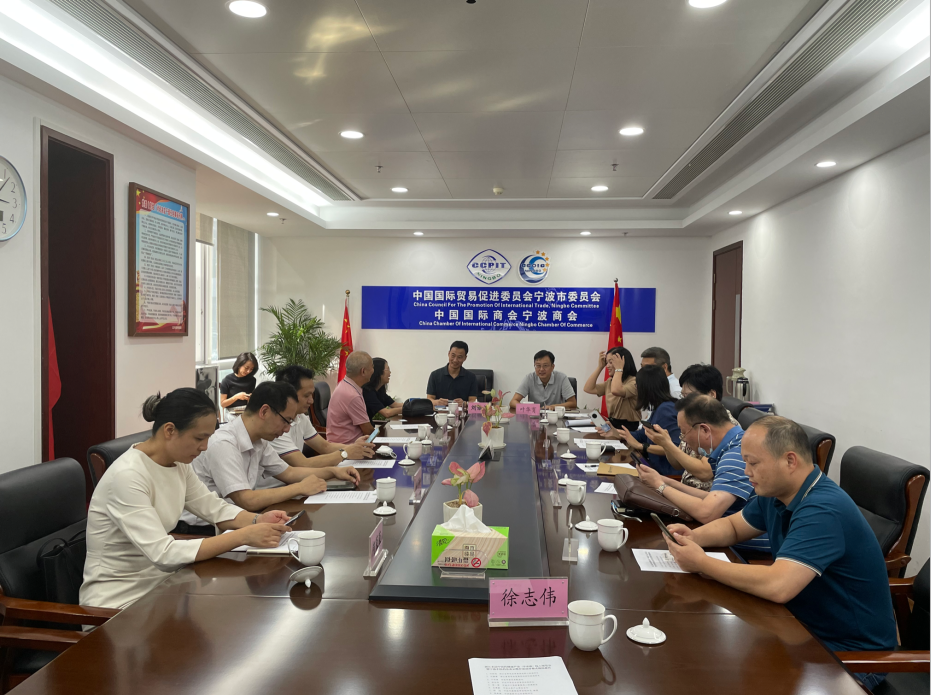 At the opening ceremony, Ye said that Chinese medicine is the treasure of the Chinese nation and a major advantage of Chinese medical disciplines, we should follow the instructions of General Secretary Xi, promote the modernization of Chinese medicine, promote Chinese medicine to the world, effectively inherit, develop and make good use of Chinese medicine, which is a precious treasure left to us by our ancestors, and make great difference in the prevention and treatment of the epidemic. Yu introduced the history and development prospects of cooperation between China and CEE countries in TCM, and hoped that both sides would complement each other's advantages, join hands and work together. Ningbo Herbal Industry Chamber of Commerce, Ningbo Dekang Biochem Co., Ltd and Ningbo Lvzhijian Pharmaceutical Co., Ltd., as representatives to give presentations.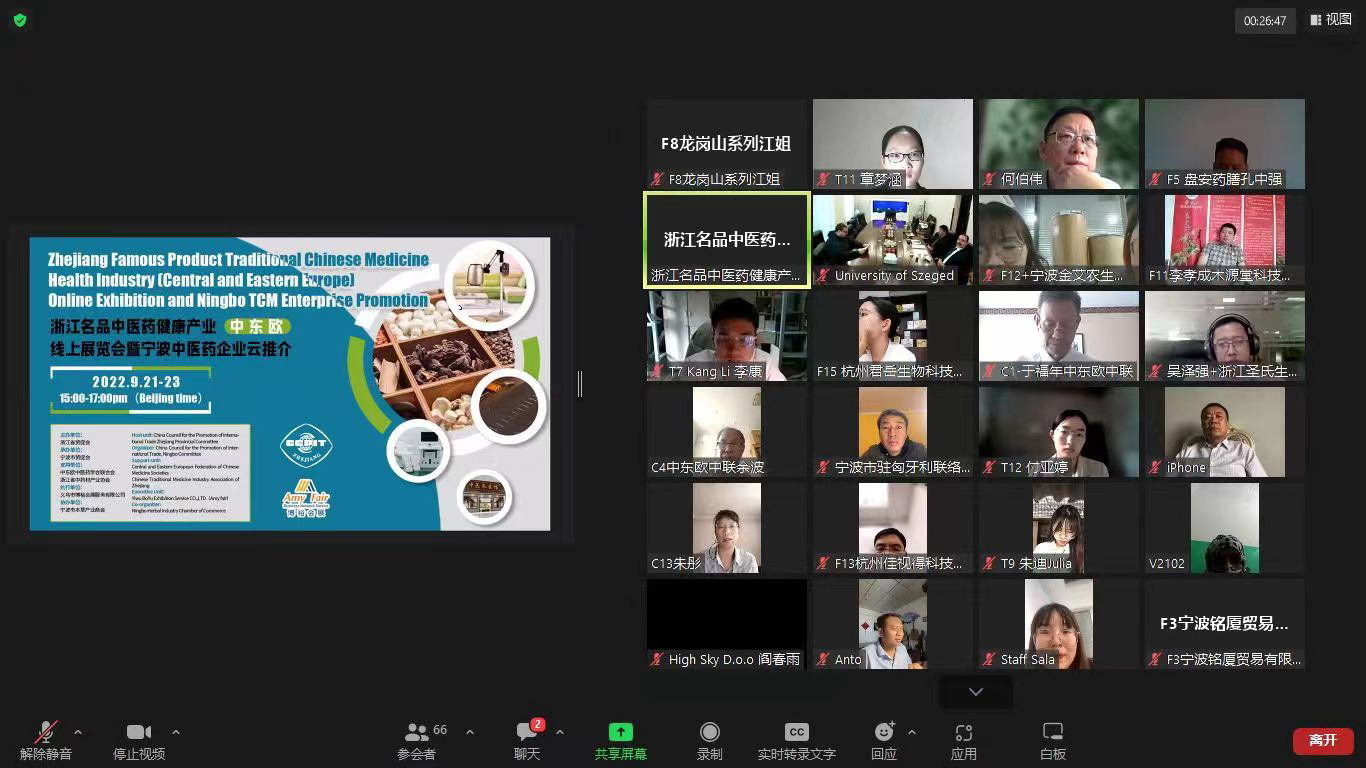 Lichun, the most influential platform in the industry of Reed Exhibitions, will continue to help exhibitors to display their corporate image and products until the end of the year. From September 21 to 23, ZOOM platform will be used to organize "one-to-one" negotiation between Chinese and foreign enterprises. It will showcase the outstanding achievements and foreign trade advantages of Ningbo and even Zhejiang in traditional Chinese medicine, further promote the internationalization, industrialization and modernization of traditional Chinese medicine, accelerate the integration of traditional Chinese medicine into the international system, and open a double-cycle state through the integration mode of online display and interaction.
Zhejiang is known as "the treasure house of medicinal plants in southeast China", and is one of the key production areas of Chinese herbal medicine in China, and has the only national nature reserve in Dabanshan, which mainly protects the germplasm resources of wild medicinal plants. Ningbo is a distribution center for Chinese herbal medicines. This promotion meeting is the first time for Ningbo TCM enterprises to go outside collectively to promote the "going out" of TCM, broaden the market of TCM service trade in Ningbo by building a platform, establishing alliances and promoting cooperation, explore the new mode of TCM service trade in "one belt and road" together, build Ningbo TCM service brand, comprehensively enhance the international influence, competitiveness and market share of Ningbo TCM service trade, and inject new impetus to accelerate the development of TCM industry into high quality and standardization!
Disclaimer: This article is reproduced from other media. The purpose of reprinting is to convey more information. It does not mean that this website agrees with its views and is responsible for its authenticity, and does not bear any legal responsibility. All resources on this site are collected on the Internet. The purpose of sharing is for everyone's learning and reference only. If there is copyright or intellectual property infringement, please leave us a message.